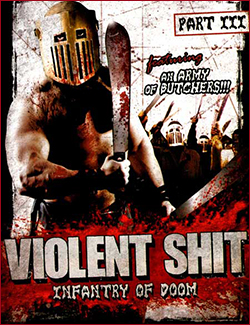 More Violence – more Shit!
In the third chapter of the Violent Shit franchise we follow a group of random dudes who gets shipwrecked on an island. It's not the island of Lost, nor is it of Dr. Moreau, but the island of Karl The Butcher and his zombiefied dad, Karl Sr. Here they've created their own community, protected by a horde of metal-masked butchers, who execute everyone who dares to trespass their land as they worship Karl as Der Meister.
The three men gets taken to the butcher's camp where Karl gives the longest villain-speech ever, while giving us some brutal executions to show us how much of an intimidating badass he is. He looks more like someone cosplaying a villain from Mad Max who wouldn't survive one day beyond Thunderdome. Anyway, when one of the guys spits in his face, he gets brutally tortured and killed off by a stake through his ribcage. The other two trespassers gets thrown into a cat-and-mouse  game in the woods where they get hunted by Karls' army of butchers, followed by a series of gag-reels with violent kills in the same old Andreas Schnaas fashion we're used to. Meanwhile, the mad-like scientist Dr. Senius, with his funny Hitler mustache, is under Karl's command to experiment on some fresh cadavers to make a new breed of super soldiers to replace the butchers who would get killed during battle.
We also get introduced to some Asian guys who are former members of Karl's troops, which teams up with the other guys. Luckily they have some high levels of Kung-Fu skills, which comes good in hand when the strange zombie creations of Dr. Senius starts to pop up in the woods. Also watch out for some random Ninjas (!)
So… what's new here? Schnaas has actually hired a composer for this one, instead of getting sued for adding copyrighted 80's heavy metal songs. Gregor Adolf Hartz gives us some repetitive stock music and some really out-of-place and cheap RPG tunes that would fit better in a Nintendo game. The gore effects are better, at least. Faces gets ripped apart by hooks, torsos split in half, someone's spine ripped through the asshole, and gory cadavers with open ribcages and shit like that. The technical aspects, however, remains on the same level as the last one with its muddy image quality and the whole amateurish nature with the shot-in-the-backyard-look, and not much sense of filmmaking in general. It's basically the same old, same old. Considering that this was made right after Violent Shit II (released six years after it was finished) and Andreas Schnaas had no time to waste, other than improve some of the effects, it shouldn't be no surprise. It's still a highly entertaining shitfest, though, with a lot of crazy, amateur action and overall a lot of vile and outlandish over-the-top splatter porn to keep your attention. If you've already seen the first two, you know exactly what you're in for.
And, yeah, I almost forgot there's a drinking game: Take a shot for each time someone says scheisse …!
I also have to mention that there's two versions of the film: the original with German dubbed dialogue, and an older US DVD version with the title Zombie Doom, which is most known for its far more hilariously bad and out-of-sync English dubbing. The original German version with subtitles is available from Synapse Films.



Director: Andreas Schnaas
Country & year: Germany, 1999
Actors: Andreas Schnaas, Marc Trinkhaus, Steve Aquilina, Beate Brüggmann, Uwe Grüntjes, Winni Holl, Mirco Hölling, Matthias Kerl, Giang Le, Son Le, Heiko Leesch, Xiu-Yong Lin, Joe Neumann, Andreas Sroka, Hagen van de Viven
IMDb: www.imdb.com/title/tt0203185/

Related posts: Violent Shit (1989) | Violent Shit II (1992) | Violent Shit III: Infantry of Doom (1999) | Violent Shit 4: Karl the Butcher vs Axe (2010)