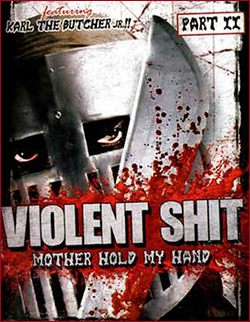 We are in an open field somewhere at the countryside, where a drug deal between two gangs is about to take place, which quickly goes terribly wrong and ends up in some ridiculous martial-art fight scenes. Suddenly another threatening figure with an iron mask appears on the horizon, and finishes the whole match by cutting the throat of the last man standing with a machete, before he breaks the fourth wall by introducing himself with a guttural voice in the most beautiful German: Du Warst Gut! Aber Ich Bin Besser! ICH BIN KARL THE BUTCHER JUNIOR!!!
Then the  opening credit sequence rolls with some heavy metal tunes with vocals performed by the director himself, Andreas Schnaas, as we see clips from the first film which gives a clear prediction that you should expect much of the same (violent) shit.
After the opening scene, the movie switches to some unexpected, and out-of-place documentary-ish mode in Hamburg, where journalist Paul Glas investigates a variety of brutal murders that is out "of the ordinary". He gives a quick history lesson of the city and of  course mentions the greatest, infamous, tourist attraction star, Fritz Honka. He interviews some random people on the street, who obviously think they are in a legit documentary about serial killers and not in some amateurish, zero-budget, shits-for-giggles, underground splatter titled Violent Shit 2, (a.k.a Violent Shit II: Mother Hold My Hand) made just to piss off the conservative bureaucrats at the censor boards in Germany. Hardy-har-har.
Anyway, a new killer is on the loose and Paul Glas is seeing similarities between Karl (I forgot his last name, but he was the killer in the first film), and ask an anonymous informant who supposedly has some secret information about the killings, and blah, blah, blah… To just cut it short and get to the point; Karl The Butcher is Son of Karl Senior and he's out on a mission to avenge his father by wandering on a murderous rampage and kill everyone in his way with his machete. That's everything we need to know, and enough of a plot that a film like this is able to comprehend, especially if you're half-drunk while watching this shit already.

After the halting docu-sequence, we're back at the countryside where Karl Junior lives with his deranged mother. She has a murder fetish, and looks like Hillary Clinton with Freddy Krueger make-up. And of course, she has taught her boy to become an equally retarded, redneck sadist just like his father, so he can entertain her with torturing and killing random victims to feed her fetish and get her pussy wet. Afterwards she drinks the blood of the victims from a bowel that Karl serves her. Karl also forces one of the victims to eat his own shit, just to make us pretty ensured once and for all that it's still Violent and it's still Shit, and still one of the most self-aware titles ever.
And from here it's basically the first film all over again, just with a longer runtime. So if you liked the first one, you'll love this one, for sure. It's gag-reel after gal-reel with close-ups showing limbs getting sawed off, heads shoveled off and blown to pieces by a handgun. Entrails getting ripped out of the victims stomach, and we get a pretty nasty scene where someones ballsack gets ripped apart by a hook. Andreas Schnaas is also very careful to shoot the scenes in broad daylight so we can enjoy some of  of the nasty details among the muddy image quality. We get a little time to catch our breath with a training montage, Rocky-style, where he levels himself up to hunt victims at a more rapid pace. The film also slips into pornographic territory with some fugly vagina-close-ups just to give the final middle-finger to Germany's censor board.
Violent Shit II is available from Synapse Fims and has been remastered with some silly, cartoonish sound effects, and replaced the copyrighted music from the original VHS version with its new, own soundtrack. The added subtitles are as hilarious as the first one. It's also stretched to widescreen to reduce the raw, unfiltered and amateurish home video quality. It still makes Bad Taste look like a glossy Hollywood production by comparison, though.



Director: Andreas Schnaas
Country & year: Germany, 1992
Actors: Andreas Schnaas, Anke Prothmann, Claudia von Bihl, and a bunch of friends of Andreas Schnaas
IMDb: www.imdb.com/title/tt0105759/

Related posts: Violent Shit (1989) | Violent Shit III: Infantry of Doom (1999) | Violent Shit 4: Karl the Butcher vs Axe (2010)