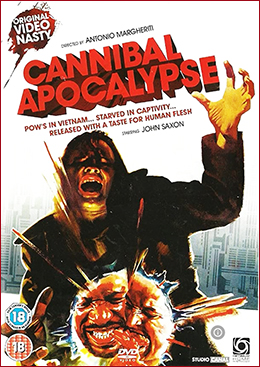 We're in the jungles of Vietnam where two American POWs are being held captive by some natives. A group of troops, lead by Norman Hooper (John Saxon) is about to rescue them. While they succeed after a tirade of bulletstorm, flamethrowing and throat-slicing, the two captives seems to have been turned into cannibals by some virus. And those who gets bitten leaves people with serious cravings for human flesh like a hardcore heroin addict. Or just zombie cannibals, if you will. The next who's to be infected is Norman, when he gives out a helping hand to get them out of the hole they're trapped in.
This was a flashback nightmare, by the way, and Norman wakes up sweaty besides his wife in their home in Atlanta, Georgia, and now struggles daily to not get his cravings and triggers by looking at raw meat, and fears ending up a cannibal himself. He especially struggles not to take a bite out of the teenage girl next door, who has a crush on him.
Things doesn't get better when Norman receives a phonecall by Charles Bukovski (Giovanni Lombardo Radice) who wants to hook up for a drink. He's one of the guys who's gotten turned into cannibalism, and Norman smells Bad News and says "another time". Charles seems to have lost his mind completely, as he's just hunting for his next fix and wanders around like a deranged serial killer. He goes into a movie theater, where he can't resist it no more when a coupe starts to make out in front of him. He bites the chick's neck like Dracula, and the Zombie Apocalypse has just started.
I hadn't heard of this film until it suddenly popped up on Netflix (Norway) of all places, fully uncut and ready for the whole family to watch on a Friday night. I remember there was a time when films like this was totally banned in most countries, and you had to import a VHS copy from US to watch in the basement with friends while the parents were far out of sight. Yeah, things have changed. This film was also on the Video nasty list because of two seconds where a sewer rat is getting torched by a flamethrower.
And no, as you've probably already figured, this is not your typical cannibal flick with confused half-naked natives running around sunny jungle surroundings, big turtles getting ripped apart, penis severing/castration, et cetera… We're in a gritty urban setting where the police, and some angry bikers, gets involved to hunt down the cannibals through the streets and sewers. It's more action-packed with some really great tension filled moments, and of course a bit of the mandatory Italian sleaze. Not the most complicated plot, really, but overall an entertaining Grindhouse flick with an interesting take on the cannibal genre and a crazy, unhinged character. But I'll never  get used to hear saxophone music during killing scenes, though…
Also known as Invasion of the Flesh Hunters and Cannibals in the Streets.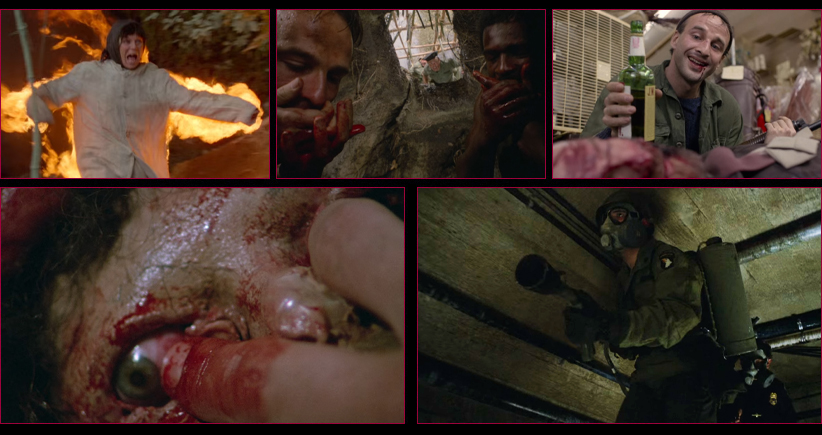 Director: Antonio Margheriti
Original title: Apocalypse domani
Country & year: Italy, Spain, 1980
Actors: John Saxon, Elizabeth Turner, Giovanni Lombardo Radice, Cinzia De Carolis, Tony King, Wallace Wilkinson, Ramiro Oliveros, John Geroson, May Heatherly, Ronnie Sanders, Vic Perkins, Jere Beery, Joan Riordan, Laura Dean
IMDb: www.imdb.com/title/tt0080379/