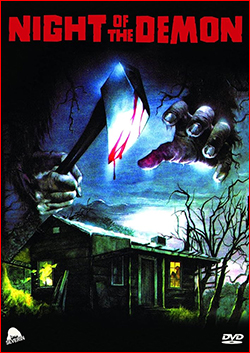 Night of the Demon Bigfoot is an amateur monster schlock from 1980, which starts off with a wounded dude, Bill Nugent, lying in a hospital bed surrounded by doctors and a police inspector. He's an anthropology professor, you see, and here's his fascinating story you wouldn't believe, which is about his adventure with a group of his students to track down Bigfoot in the woods of Northern California. And he has to convince the doctors that he's not insane and that he was the only one who survived Bigfoot after the monster killed all of the students.
And good-fucking luck with that, my dude. Mr. Kallen from Slapped Ham would have loved to have you on his first podcast.
Bill starts with the first story, the first series of flashback scenes where we see Bigfoot killing random people. The first victim is some guy in the forest who's getting ready to fish by a river. In order to have some suspense here, the monster is shown through POV and off-screen and, just like in the great classic Blackenstein, we have a moment where we see the monster rip his arm off with zero force in silhouette. Someone has clearly taken notes from the very best. While he bleeds to death with the use of the thinnest cranberry juice streaming from his ripped arm, the blood streams down to fill one of Bigfoot's footprints, following the opening credits.
As Bill and his group of students head into the forest to find our mythic creature, they hear about this lady Wanda. She's a mysterious outcast who lives as a hermit in a cabin deep in the woods, and the legend says that she knows where Bigfoot is. Okay, then. In the meanwhile, as they're heading for Wanda's cabin, we get some more flashback scenes told by Bill as they sit around the campfire to remind us how dangerous this Bigfoot is. All these campfire scenes were shot and added during the post production because the producer wanted to amp up the gore. We see Bigfoot killing people in different ways, but don't get too excited. In one scene, he even uses an axe and the effect is the cheapest-looking rubber wound sticker they could afford.
The most memorable scene is the biker dude who gets his dick ripped off when he's about to take a piss. Because this is no laughing matter. This is serious. Dead serious. Just look at the deadpan seriousness on Bill's face when he tells the story. Don't you dare to even chuckle or roll your eyes in disbelief. Show some respect for the poor guy.
We also have a campfire story about this random couple who's about to have sex in a van. This is also the only body count flashback scene (as far as I remember) that was not shot in broad daylight. This is one of the more what-the-fuck-moments where the guy gets dragged by Bigfoot up to the top of the car while the lady can't decide how to react as she makes orgasms sounds and looks confused rather than terrified. It's noteworthy to mention that director James C. Wasson mainly produced porn films, so maybe there are some connections there.
Then there's the star of the film, the man, myth and the legend himself: Bigfoot… and I have to be honest and say that the face-makeup is not the worst I've seen. Some effort went in here for sure, and I would assume the make-up artists took some inspiration from the creation of Michael Myer's mask in Halloween, only here based on the face of Mick Jagger. And I don't think anything can really top that.
Night of the Demon is available on DVD and Blu-ray from Severin Films, restored and uncut. A fun time for all lovers of schlock and funny-bad movies.



Director: James C. Wasson
Writers: Mike Williams, Jim L. Ball
Country & year: US, 1980
Actors: Michael Cutt, Joy Allen, Bob Collins, Jody Lazarus, Rick Fields, Michael Lang, Melanie Graham, Shannon Cooper, Paul Kelleher, Ray Jarris
IMDb: www.imdb.com/title/tt0081229/