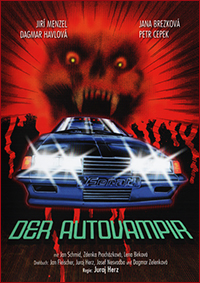 Upír z Feratu (also known as Ferat Vampire and Der Autovampir) is a black Ferat racing car that sucks blood from its driver's feet through the pedal. Even if you wear shoes with thick soles. And you understand the hilarious pun, right? nosFERATu. Har-Har.
If you expect a crazy Maximum Overdrive-ish  thing here, or a miniature car with bat wings fluttering with strings in the light of the full moon, Ed Wood-style, you can just give this a pass right away. It is impossible not to expect something real special when you hear a title like DER AUTOVAMPIR while taking a look at its cover, and with Dracula himself appearing in the original poster. Be ready to be really underwhelmed, for this pretty obscure film from Czech Republic is obscure for a good reason.
The plot goes something like this: A foreign car manufacturer has created a whole new car design that is using human blood as fuel. Dr. Malek has realized from the start that there is something really fishy about this company, and is not at all happy when his colleague, Mima, has signed a contract with them to work as a rally driver. Dr. Malek comes in contact with another bizarre guy, a scientist, who looks more like a creepy uncle that you never would allow babysitting your kids. He also likes to sneak up on people while they shower. Fuck this guy. However, he is convinced that this Ferat lives on human blood. And in order to convince Dr. Malek what they're dealing with, he puts on an old roll of Nosferatu to lecture him about vampires, as if he was a five year old. And nothing much really happens from here. We get a completely random sex scene where someone cuts himself on a broken bottle that happens to contain blood. There's also a completely random scene where an old, disorientated grandma is run over by someone (off screen) during rush hour. Just because of shock value, I guess. Except it's so poorly filmed that it isn't shocking at all. The film builds up to a rather anticlimactic sequence with a rally racing which you probably couldn't give a shit about unless you're a big fan of cars and… well, rally racing.
I must also point out that this is not a comedy, or a parody, this is made in all seriousness with serious actors, dry as sandpaper and with really dull dialogue that doesn't help much to keep the interest up. And to make it look more serious, Dr. Malek is played by a guy who looks like a clone of Bill Gates, and is as bland, wooden and uncharismatic as a potato. However, one has to be a complete mental imbecile to take any of this as seriously as the communist censorship board in the Czech Republic did by cutting away the only two scenes containing blood, and the only thing that reminded the viewer that this was actually a horror movie. Well, "horror" is a word that fits very loosely anyway. These scenes are now added back on the limited German DVD/Blu-ray release, but they're too tame and downright weak and silly to add any form of shock value. And if you expect some great visuals here, there's not much. Most of the scenes are filmed out in the broad daylight, mainly in the outskirts of Prague that comes off a bit cheap and lazy. I'm not sure what to make out of Der Autovampir, to be honest, or what the appeal is. There's several eye-rolling and unintentionally funny moments here for sure, which is impossible for a film like this to avoid, but as a whole, you're not missing out a damn thing unless you're in for a few chuckles.

Director: Juraj Herz
Country & year: Czech Republic, 1982
Actors: Jirí Menzel, Dagmar Havlová, Jana Brezková, Petr Cepek, Jan Schmid, Zdenka Procházková, Blanka Waleská
IMDb: www.imdb.com/title/tt0083264/