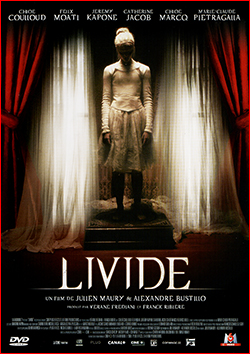 The teenage girl Lucie (Chloé Coulloud) lives in a small sleepy seaside town where she has her first day as a care-worker, assisted by Catherine. One of the posts is in an old, overgrown mansion owned by the ghoulish-looking old lady, Jessel (Béatrice Dalle), who rots in her bed while breathing through a ventilator in a coma. We learn that she was once a sadistic ballet instructor, but most importantly, she has a key around her neck that is rumored to open a treasure hidden somewhere in the house. And Lucie is keen to get her hands on the treasure so that she and her boyfriend can look forward to a better future. She also lives at home with her father after her mother committed suicide, and their relationship is tense.
It also happens to be Halloween and what could be more appropriate than spending the night treasure hunting in a big old house? Lucie, along with her boyfriend and another guy, enters the house from a basement window and sneaks into the bedroom to get the key, and… well, it doesn't go so smooth from here on, as they get trapped inside the house like a survival-horror game after they encounter the "treasure" which isn't exactly what they expected.
So this is the follow-up to Inside by the french duo Alexandre Bustillo and Julien Maury. If you expect another rerun with non-stop violence in the purest New French Extremity ways, you might get mildly disappointed. Livide relies more on dim atmosphere surrounded by an old Victorian mansion filled with dust, cobwebs, probably a strong odor of mold, and some obscure history from a dark, twisted fairy tale. And I would recommend wearing shoes with some strong soles as the basement is filled with trash, clutter and whatnot from floor to ceiling, which makes Ed Gein look like a compulsive cleaner.
And  with Inside, Livide and The Deep House, it's fair to say that the duo is at their right element when it comes to haunted house scenarios. While their scripts aren't always their strongest side, they surely know how to create a creepy, eerie, and sometimes claustrophobic atmosphere. Livide works mostly as a visual treat where the inspirations from Italian horror filmmakers Argento and Bava shines through as it slides further into a deep, vivid gothic nightmare. It's gloomy, melancholic and poetic with an experimental third act, to say the least, and the ending is always open for interpretation. And yes, there's gore. And it tastes delicious. Just be a little patient.



Writers and directors: Alexandre Bustillo, Julien Maury
Country & year: France, 2011
Actors: Chloé Coulloud, Félix Moati, Jérémy Kapone, Catherine Jacob, Béatrice Dalle, Chloé Marcq, Marie-Claude Pietragalla, Loïc Berthézène, Joël Cudennec
IMDb: www.imdb.com/title/tt1727516/