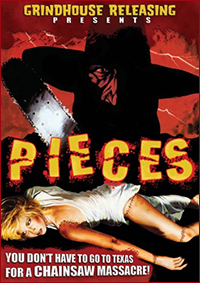 Boston, 1942. The movie doesn't waste any time and gets straight to the first body count, where a young boy is in his room minding his own business while pinning a pornographic jigsaw puzzle. In comes his strict and unhinged mother, who gives him a few slaps before she throws away that filthy thing. He then picks up an axe, which he happens to be allowed to have in his room for some reason, and chops his mother to death, before he saws off her head while he smiles, and then hides in a closet. When the cops come in, they just assume that the boy was lucky and managed to hide from the unknown killer. Little did they know..
Then we jump 40 years later, still in Boston, where the kid we just saw in the opening have grown up to be a serial killer (No, really? Who would've guessed). He hunts down young female students at a college, dressed as a classic giallo-style killer with a black coat, gloves and a big hat that hides his face behind its shadows. And speaking of shadows, the look of the killer is actually inspired by the comic book character The Shadow. He has also developed an obsession with pornographic jigsaw puzzles and is fixating to make his own, personal masterpiece(s) with real body parts. The first victim gets her head chopped off under the blue sky as she lies on the lawn outside the campus, studying. The chunky gardener, played by Paul "Bluto" Smith, is the first to be suspected, of course. The killings are being further investigated by Lt. Bracken (Christopher George) who also has a suspicious eye on the socially stunned anatomy teacher Arthur Brown (Jack Taylor), who looks like a reduced Vincent Price with a bad flu.
The tagline for Pieces says "You don't have to go to Texas for a Chainsaw Massacre". It's probably the best and fitting tagline I've ever read for a film like this, and it isn't an exaggeration either. Pieces is easily one of the goriest slashers from the 1980's with all the mandatory recipes of Blood, Tits and Gore. The effects really stand out, especially the girl who gets sawed to pieces in the toilet, and some visual highlights like the woman who gets butchered on the water bed. And as bad, wooden and stiff the acting is, which is also the funniest part of the movie, they sure were dedicated enough to deal with gallons of animal blood, fresh from the local slaughterhouse, while organs from dead animals were used as the more gorier effects. Must have smelled just like pure movie magic. There is some really bizarre dialogues here, such as one of the female students saying right of the blue and makes it pretty clear that it's the middle of the mating season: "the most beautiful thing in the world is to smoke pot and fuck in a waterbed at the same time". I want a T-shirt with that quote. There's also a complete random cameo of a Bruce Lee imitator that doesn't make any sense. But nevertheless, Pieces is a lot of bloody, brainless fun with solid entertainment value that definitely belongs in every gore-hound's film collection.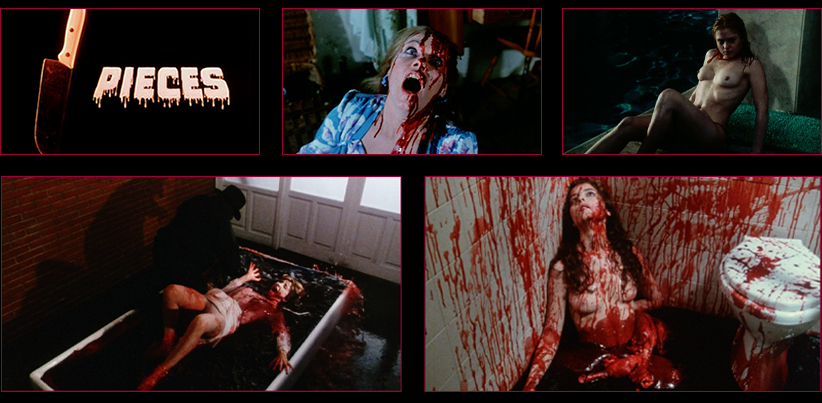 Director: Juan Piquer Simón
Original title: Mil gritos tiene la noche
Country & year: Spain | USA | Puerto Rico, 1982
Actors: Christopher George, Lynda Day George, Frank Braña, Edmund Purdom, Ian Sera, Paul L. Smith, Jack Taylor, Gérard Tichy, May Heatherly, Hilda Fuchs, Roxana Nieto, Cristina Cottrelli, Leticia Marfil, Silvia Gambino, Carmen Aguado
IMDb: www.imdb.com/title/tt0082748/