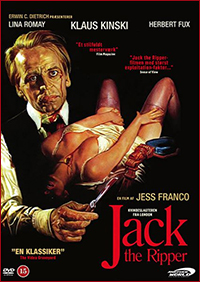 It's a foggy night in London, where the prostitute Sally is on her way home from Cabaret Pike's Hole. After some walking through narrow, dark alleys, she stumbles right into the hands of Jack the Ripper (Klaus Kinski) who rips her clothes off and kills her (off screen). He then carries her home over his shoulders like a dead deer, and brings her to his psychotic and slightly retarded wife Flora, who looks at the bodies he brings home with him as dolls, or whatever. The next day, Dr. Jack and Flora are rowing out into the  Thames River (here filmed in the Schanzengraben Canal in Zürich) to dump the body. Jack, who is working as a doctor, is then going to work as usual to take care of today's patients, and perhaps snatch a new victim. At the same time Scotland Yard, led by Inspector Miller, is on the case.
Written and directed by the Spanish Jess Franco who was most famous (or rather more infamous) for his uncompromising and sleazy low budget exploitation- reels, often filled with tits, hairy pussies and pretty much the normal stuff that either cinema or TV in Spain usually refused to show. It never slowed down his creativity however, and made his films so quick and simple that he could pull out ten films in one year. Well, take that, Takashi Miike. A hardcore workaholic who obviously nearly worked himself to death, until he was hit by a deadly stroke in 2013. The 82-year-old left behind a track record of over 200 films. So it was pretty evident that I had to check out some of his work sooner or later.
The first impression here is not bad, the production value is up there with some great atmosphere. The rest, however, is nothing much to be impressed by. It clearly has nothing to do with Jack the Ripper whatsoever and the mystery/mythology,  so God knows what this movie really was supposed to be. The acting goes from wooden, bad to so-bad-it's-funny, and was originally performed by German actors. It later got rather sloppily dubbed in post-production, in German, Spanish and English. The gore effects, which is a minimal aspect here, is nothing but a joke, and this is supposed to be the uncut version. Sorry, but I'm still not impressed. There's one scene where Jack chops off one of the victims titties in which the effect looks like a burger with red paint on it. Uhm.. okay. That really sucked. Someone give Tom Savini a call, please.
And when it comes to the ending.. it's actually so lame, anticlimactic and lazy that not even an ending credit or a simple "The End" is shown. It just ends. Which is good. I'm glad it at least ended..

Director: Jess Franco
Country & year: Switzerland | West Germany | Spain, 1976
Actors: Klaus Kinski, Josephine Chaplin, Andreas Mannkopff, Herbert Fux, Lina Romay, Hans Gaugler, Nikola Weisse
IMDb: www.imdb.com/title/tt0074408/