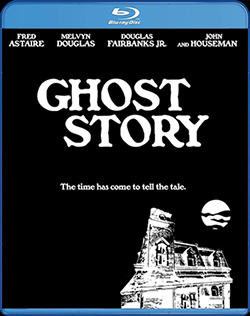 It's a cold winter in the small New England town of Milburn. The year is 1979, and four elderly friends who have formed a men's club which they call the Chowder Society, get together to tell each other ghost stories. These men are the businessman Ricky Hawthrone (Fred Astaire), the lawyer Sears James (John Houseman), the physician John Jaffrey (Melvyn Douglas) and Mayor Edward Charles Wanderley (Douglas Fairbanks Jr.). Meanwhile, in New York City, Edward's son David dies after falling from his apartment window in a high rise building, something we witness was caused by him stumbling backwards in shock as his girlfriend suddenly turned into a living corpse right before his eyes. Edward's other son, Don, then comes home to see his father, who soon after also dies in a snowstorm when falling off a bridge. Don doesn't believe for a second that his father committed suicide, and approaches his father's friends of the Chowder Society and wants to gain membership there by offering a ghost story of this own. And his tale soon reveals something about a mysterious woman named Eva Galli, who is apparently the source of everything that is happening to them…
Ghost Story is a supernatural horror film from 1981, directed by John Irvin and based on the novel by the same name written by Peter Straub. It stars Fred Astaire (this was his last film), Melvyn Douglas (also his last film, and he previosuly had a role in the excellent ghost horror film The Changeling from 1980), Douglas Fairbanks Jr., John Houseman, Craig Wasson (who played a role in A Nightmare on Elm Street 3: Dream Warriors) and Alice Krige (who played the evil witch in Gretel & Hansel from 2020, and also had roles in Silent Hill from 2006 and Sleepwalkers from 1992). Thus, there's a handful of recognizable faces for horror fans here.
Aside from a strong cast, there's definitely a good amount of atmosphere as we watch the elderly gentlemen either sit by the fire telling their stories, or in some kind of supernatural misfortune. It's almost like you can smell the mix of cigars and Old Spice through the screen. The movie itself moves along at a leisurely pace, offering scares on a very limited scale but instead focusing on upping the underlying apprehension for what is to come. The apparition and ghost effects are quite decent, however sparsely they're actually used. Spooky scenes of an old dilapidated house, flashback scenes and some shots of a delightful wintery landspace makes the film pretty nice visually, although any major scares are sorely lacking.
Now, for those who have read the book, you'll notice that the movie is very different in so many ways. Normally, a movie adaptation usually has more than a few changes, but there are those that have changed a few things here and there and then there are those that have changed so much that it's barely even the same story anymore. The movie adaptation of Ghost Story belongs to the latter category. I won't spoil too much, but the original story is so much more than just a ghost story, and the drastic change in the movie version also caused several key elements to be removed entirely. Some characters, like Gregory Bate and his little brother Fenton, feels like they were shoehorned in just to have them there, because the lack of their eerie backstory pretty much removes their purpose completely. Originally, Peter Straub was unhappy with the final result due to the removal of elements and complete change of his story, and as a result he would not allow any further adaptions of his books. Over the years, though, he did apparently soften up on it and have praised the actors, music and atmosphere in the film despite being disappointed with the movie overall. He was grateful that it actually caused people to seek out the book, as the movie did have quite the success with a total of $23,371,905 at the United States box office, which made it the third-highest grossing horror film in 1981 and the 34th highest grossing film of the year.
Personally, I would recommend the book as a much more complex, intriguing and immensely layered supernatural story, and I could easily see how the book could have made for a pretty good miniseries or even TV series, if made by the right people. But regarding this movie, then overall I'd say it works well as an average, old-fashioned atmospheric Ghost Story.



Director: John Irvin
Writers: Peter Straub, Lawrence D. Cohen
Country & year: US, 1981
Actors: Fred Astaire, Melvyn Douglas, Douglas Fairbanks Jr., John Houseman, Craig Wasson, Patricia Neal, Alice Krige, Alice Krige, Jacqueline Brookes, Miguel Fernandes, Lance Holcomb
IMDb: www.imdb.com/title/tt0082449/