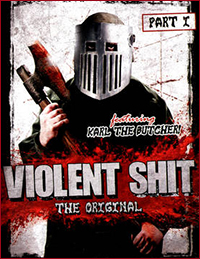 Somewhere in Germany we see a random boy who's playing with a ball, and gets spanked by his mom for coming home late. The boy then kills her with a meat cleaver, and our new terrifying slasher villain "Karl the Butcher" (or simply "The Butcher") is born. Then we skip twenty years later where The Butcher is being transported by the polizei from-or-to God knows. Then one of the transporters have to take a piss, and The Butcher manages to escape as soon they stop the car, and kills them all in the worst low budget-way which is pretty indescribable. And we're only seven minutes in, so take this as a foretaste to what the rest of the movie will be.
Then we're being introduced to a nameless blonde chick who drives to a gas station, parks the car and switches to an other car to continue driving. When she arrives at the countryside and into the woods, the car dies and she yells "scheisse", which describes this movie pretty well so far. And now that it's gotten dark and her being all alone, what could happen? We see The Butcher from pov-view while he halts and grunts like a pig, then attacks her, and cuts one of her titties off. Make me wonder if Lars Von Trier has seen this. However, he then butches her to pieces (off camera) and eats some of her entrails. Yummy, good night.
Next day, The Butcher hunts for more victims in the countryside when something unexpected happens: he suddenly collapses. Maybe food poisoning from the woman's guts he ate last night? Or maybe the actor is simply tired of this (violent) shit and realized that his performance never would lead to any Oscar Nominations, and would rather go home and play Nintendo? Who knows. Movie over? No way! We haven't even gotten halfway through its running time. Then we meet our next victim who by a  coincidence spots The Butcher laying by the road. And, like nice and empathic people do, he checks if he needs help, which of course turns to be quite opposite when The Butcher grabs his meat cleaver and cuts his hand off. And his dick, which he don't eat. Thank God. And in order to not waste any precious time, we're jumping straight over to the next victim, an aggravated redneck, played by the director Andreas Schnaas himself, who yells (in German) "fucking shit". At least, the movie seems to have a sense of self-awareness.
And at this point I think you know the drill: every new character who gets on camera is just set up to be the next victim and killed off as quickly as they came, like a fart in the wind. So yeah, Violent Shit couldn't be a more blunt and fitting title: It's Violent Shit and that's exactly what you get. A bunch of death scenes filmed over four weeks, "directed" (to use that word loosely) by Andreas Schnaas, who is a part of the trinity of the underground horror scene from Germany, along with Olaf Ittenbach and Jörg Buttgereit. Shot with his friends and with a budget that was enough to buy some gallons of cranberry juice as fake blood, rent a low-fi Video-8 format-camera and buy a lot of Heineken. The result is something you would expect to see from some kids in their early teens made for shits and giggles in their back yard on a weekend without any goal, purpose, ambition or a script.
One thing's for sure: if you're a fan of non-budget-amateurish-splatter horror, Violent Shit won't fail to entertain you. The witty German dialogue, which apparently are just improvised and dubbed in post-production, makes it even more funny. Also worth mentioning that Andreas Shnaaas did the impressive thing of actually managing to drag his Violent Shit to the movie theaters in Germany, but it was pulled shortly after when it got under the censor board's radar. It eventually found its way over to the USA where it became an underground cult classic on VHS.
A "Five Films Collector's Shitition" with all of the four Violent Shit-films and the zombie flick "Zombie '90: Extreme Pestilence" is available from Synapse Films. Knock yourself out. I couldn't find any trailer, but down below you can see a clip with Karl The Butcher in action showing no mercy.

Director: Andreas Schnaas
Country & year: Germany, 1989
Actors: Andreas Schnaas, Gabi Bäzner, Wolfgang Hinz, Volker Mechter, Christian Biallas, Uwe Boldt
IMDb: www.imdb.com/title/tt0094271/

Related posts: Violent Shit II (1992) | Violent Shit III: Infantry of Doom (1999) | Violent Shit 4: Karl the Butcher vs Axe (2010)