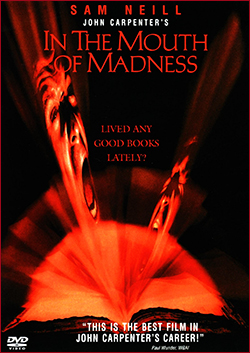 John Trent used to be a freelance insurance investigator, who is now a patient in a psychiatric hospital. One day, Dr. Wrenn visits him, where Trent recounts his story: after the disappearance of the popular horror novelist Sutter Cane, Trent is having lunch with a colleague. Suddenly, Trent is attacked by an axe-wielding man who is shot dead by the police, and is later revealed to be Cane's agent. This man went insane after reading one of Cane's books, and killed his family as a result. And he is not the only one…apparently, some people seem to go crazy after reading Cane's novels. Shortly afterwards, Trent is hired by the director of Arcane Publishing who wants him to investigate Cane's disappearance, and also to recover the manuscript for his final novel. Linda Styles, who is Cane's editor, is assigned to accompany him. While she explains to Trent that Cane's novels are known to cause paranoia, disorientation and memory loss in some readers, Trent believes it's all hogwash and considers his disappearance to be a bluff, something done entirely as a publicity stunt. But bizarre phenomena starts happening, and during their investigation, Trent and Linda enters a small town which looks like and includes people that are exactly as described in one of Cane's fictional novels. Is it all staged, or is something else at play?
In the Mouth of Madness is the third film in John Carpenter's (unofficial) Apocalypse Trilogy, with the first being The Thing (1982) and the second being The Prince of Darkness (1987). The movie is focusing majorly on atmospheric and creepy imagery, and John Carpenter really is good at creating an amazing atmosphere in many of his films. This one comes off as a surreal and bizarre detective story, with some interesting visual effects. Sam Neill does a convincing portrayal of the detective who is gradually falling into the abyss of pure madness as he's investigating the alleged disappearance of the famous writer.
In the Mouth of Madness is a ride that takes you through a bizarre world of madness, although it might appear a little disorientating at times and there's not offered too many explanations when wrapping things up. Regarding the movie's concluding and final act…there are some parts that doesn't make all that much sense. There are also some bits during the movie that appears to be a little involuntarily funny at times, but nothing too distracting. It's still an interesting and enjoyable experience if you don't take it all to seriously, where there's a mix of elements from H.P. Lovecraft and Stephen King (whom Carpenter based the Sutter Cane character on). While there's a lot of Lovecraftian stuff all over the place, the Stephen King vibe cannot be missed.
So, overall, it's well worth a watch if you want something strange with a little bit of Lovecraft mixed with a Stephen King flavour and maybe a little pinch of Twilight Zone.
Fun fact: the film that Trent is watching at the end of the movie is called Robot Monster, which Carpenter has stated was his favorite monster movie when he was a kid.



Director: John Carpenter
Country & year: USA, 1995
Actors: Sam Neill, Julie Carmen, Jürgen Prochnow, David Warner, John Glover, Bernie Casey, Peter Jason, Charlton Heston, Frances Bay, Wilhelm von Homburg, Kevin Rushton, Gene Mack, Conrad Bergschneider
IMDb: www.imdb.com/title/tt0113409/