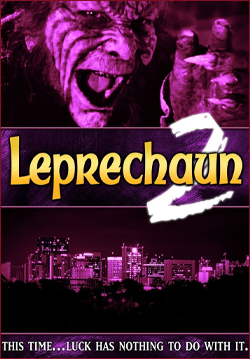 Leprechaun 2 starts way, waaay back in ancient Ireland where William is being hunted down by Lep through the forest, while he utters his first line that sets the tone immediately: "scream as you MAY, scream as you MIGHT, if you try to escape, you'll be dead on this NIGHT, haha." William has been his slave since he stole his pot of gold, but that's no longer important. Now that he has finally reached his 1,000th birthday on St. Patrick's Day, he can now claim something more precious: a bride. And the lucky one has already been chosen, the only thing holding back is that she has to sneeze three times. And if no one saves her soul by speaking  the magic phrase "God bless ya", the poor girl is his forever, and then William is a free man. The only problem is that the girl is William's daughter, and he cant have any of that. After he ruins the whole set-up by saving her from the worst marriage ever, Lep says he will wait for another 1000 years, and hunt down William's whole bloodline, before he snaps the guy's neck.
Then we jump to present day, to Los Angeles, exactly one thousand years later on the St. Patty's Day, where we meet the teen couple Bridget and Cody. Cody works for his uncle Morty, who runs a shady Dark Tourism Ride which scams people by showing them false resting spots of celebs and murder houses. Morty is also a greasy alchoholic who's always too drunk to drive as he just sits in the local Irish pub and drowns himself in brown liquor. And now having seen the three protagonists, our favorite host, Lep, emerges from a tree near Harry Houdini's house to finally get the show started. His first victim is a bum whom Lep rips out his golden tooth before he starts the huntdown for his chosen bride. And who can that possibly be? Bridget, of course, who's a descendant of William's bloodline. Lep was a man of his words. It's now up to Cody to save her.
Lep 2 hasn't got much more to offer than bad acting, retarded silliness and the production value of a porn film. Warwick Davis reprised his role as Lep in the first sequels of five (!), and like in the first one, he's once again the only reason to give this a watch. He has far more screentime compared to the first film, and more quote-worthy poetry-driven one-liners to entertain us with, as he goofs and giggles his way to one scenario after another. He's even getting hammered in one scene where he has to prove himself, as the proud Irish he is, that no one can drink him under the table. The ice cream man Clint Howard and the Twin Peaks receptionist Kimmy Robertson has a short cameo as a tourist couple. And the rest of the characters are just bad actors who do their best by remembering their lines and look scared when the script says so.
The effects are trash. There's one scene where we're supposed to believe that Lep rips one guys finger off. You can see a mile away that he gently pulls the finger off a fake hand. He then licks on it and says with his manic voice: "Finger licking GOOD! AAAAH…!!" Then we have the pot of gold that gets ripped out of someone's stomach. I won't explain how it got there other than it's so laughable and poorly executed that I only wonder where the budget of 2 million dollars went.  There's also a desperate attempt to appeal to the teenage audience by showing a second or two of Bridget's naked boobs, allegedly performed by a topless double. This scenes also involves two spinning lawnmower blades, which Lep tricks some guy to believe are two big breast that's waiting for him. A cheap, but memorable kill count.
The Leprechaun franchise is infamous for its total absence of continuity which leads to the big question: Is Lep 2 related to the first film in any form? No. Trimark Pictures actually had big plans for making a direct sequel where Lep would seek revenge on Tori (the protagonist from the first film), and they felt confident enough to get Jennifer Aniston back when they offered her a paycheck of 25,000 dollars. She refused, of course, which led any continuation to go completely off the rails, and every sequel was treated like a reboot or stand-alone film with different writers and directors who had no clue what to do with the franchise, other than trying to top the previous one with as much B-movie insanity as possible. Some other theory is that there's a different Leprechaun in each sequel, just played by the same actor. But sequels or not, the films get crazier and crazier where we follows Lep's quests for gold in places such as Las Vegas, in space, in tha hood, and it's overall an amusingly bizarre franchise to dive into, especially if you have a soft spot for schlocks.


Director: Rodman Flender
Writers: Turi Meyer, Alfredo Septién
Country & year: USA, 1994
Actors: Warwick Davis, Charlie Heath, Shevonne Durkin, Sandy Baron, Adam Biesk, James Lancaster, Linda Hopkins, Arturo Gil, Kimmy Robertson, Clint Howard
IMDb: www.imdb.com/title/tt0110329/

Related posts: Leprechaun (1993) | Leprechaun 3 (1995) | Leprechaun 4: In Space (1996) | Leprechaun in the Hood (2000) | Leprechaun returns (2018)