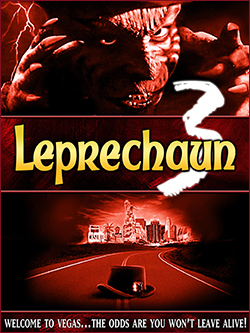 Lep 2 didn't hit the box office gold as Trimark Pictures had hoped for, and because of that it was the second and final film in the franchise to be given a theatrical release. Despite this, Trimark had no plans to call it quits when they still had Warwick Davis on board and saw further potential to dig for more gold in the home video market. And the best way they could ever go from here was to no other place than the city of sins, casinos, strippers and pawn shops: Las Vegas.
Leprechaun 3 starts with a guy, with one leg and a hook for a hand, enters a pawn shop. He's stressed out and frightened, carrying a Leprechaun statue with an amulet around its neck, and a pot of gold in a bag. He wants to sell it so he can buy gas and get the fuck away. And before he leaves, he warns the shop owner that he must never take the amulet off its neck, which … he of course does shortly afterwards. Lep comes back to life, bites the man's ear and one of his big toes off, before he eventually kills him with his magic powers. One of the gold coins goes missing and falls in the hands of the naive young man Scott, the film's unlucky protagonist, (played by the future Oscar nominee John Gatins) who has already fallen in love with the blonde girl Tammy (Lee Armstrong). She works as an assistant to a douchebag of a magician, and spends most of the screentime giving the viewer some eyecandy in her kinky, black corset. After Scott has lost all his money on gambling, he uses the coin to grant his wish to win it all back, plus some extra, on the casino roulettes.
The luck seems to strike for Scotty until the boss gets his eyes on him and makes sure that he won't leave the building with his fresh new fortune. Things goes from bad to worse when the coin is rolling from hand to hand, granting one wish after another which escalates into full chaos. And the night has just begun when Lep is roaming the streets of Las Vegas in search of his precious coin. He seems pretty stimulated by the dazzling surroundings and even gets the pleasure to be a part of the greatest moment in the history of cinema by meeting the king himself, Elvis. The luck also seems to completely run out for poor Scotty when he himself slowly gets transformed into a Leprechaun, after having gotten bitten by Lep and infected with his green blood. He's not aware of the transformation until he can't say a sentence without adding a rhyme to it. Two Leps in one film? How much worse can it possibly get from here?
The gory aspects in the Leprechaun films is pretty minimal and as cheap as a moldy piece of bread, but there's at least not one, but two memorable death scenes to mention here. The first one involves Lep using his magic to make a blond stripper crawl out of a TV screen to give a sleazy guy some pleasure. Well, think again. As she lays upon him and getting ready to suck his dick, Lep transforms her into a cyborg that electrocutes him. And a wet, special thanks goes to the nude Penthouse model Heidi Lynne Staley for making this scene happen. Then we have the scene where Caroline Williams makes her wish: to be young and beautiful again. The result is the whole film in a nutshell, where her lips, boobs and ass blows up like a balloon and explodes in pure Looney Tunes fashion, then followed by on of the best punchlines from our favorite comedian Lep: "Now that was quite a LOAD to have to EXPLODE. What a lovely LASS, I had to blow up your ASS, but now I must hit the road!"
Lep 3 is regarded as the best in the franchise, or best-worst, if you will. The film is delightfully bad on every level and surely deserves its place on the Hall of Shame of so-bad-its-good-movies, and no one seems to take the franchise seriously for a second at this point. The acting, the dialogues, the shoddy effects filled with outlandish cartoon logic, a flavor of naughty nudity only to piss off the parents, makes this a great time and perfect film to watch on little junior's birthday party! Warwick Davis is at his peak here with his best lines and embraces the insanity to its fullest with his performance. The tone and the humor, whether is intentional or not, suits Lep's wit and personality perfectly and the Las Vegas setting adds even more to the fun. This is also Davis' personal favorite in the series, and it's hard to not be on the same page with him on that one. Leprechaun 3 was shot in 14 quick days, and  became the highest selling direct-to-video film of 1995 which kept the spaceship ready to send Lep to his next adventure.



Director: Brian Trenchard-Smith
Writer: David DuBos
Country & year: USA, 1995
Actors: Warwick Davis, John Gatins, Lee Armstrong, John DeMita, Michael Callan, Caroline Williams, Marcelo Tubert, Tom Dugan, Leigh-Allyn Baker, Richard Reicheg, Linda Diane Shayne, Heidi Lynne
IMDb: www.imdb.com/title/tt0113636/

Related posts: Leprechaun (1993) | Leprechaun 2 (1994) | Leprechaun 4: In Space (1996) | Leprechaun in the Hood (2000) | Leprechaun returns (2018)