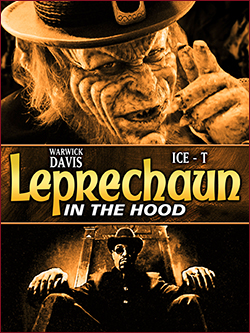 We're at some shithole in Los Angeles where Mack Daddy (Ice-T) with a big 70's afro, and some other dude, discovers a room with Lep's statue and his pot of gold. "Holy shit! You midget Midas mothafuckah", Daddy says before he grabs a mysterious flute from the pot of gold. We later learn that Mr. Daddy is a rap-music producer and the flute has the magic powers to set the listeners in some euphoric trance and some shit. Lep (Warwick Davis) comes to life, kills the other dude with a comb and goes for Mr. Daddy as he steals his gold. After Daddy gets empty for weapons that were hidden in his big afro, everything from a knife to a baseball bat, just to ensure us that we're still in Looney Tunes land, he manages to trap Lep with the medallion and turns him back to stone. Got yo ass!
We then meet our protagonists Butch, Postmaster P, and Stray Bullet, a group of young struggling rap artists. They get in touch with Mack Daddy who sees some potential in them. The only problem is that their rap songs are too positive and family-friendly, and "that shit is whack", yells Mr. Daddy. After they refuse to follow Daddy's advice to make their lyrics more R-rated, he tells them to fuck off. They then take revenge by breaking into his office, stealing the golden flute and the medallion from a certain stone figure which finally (again) awakens Lep, and … well, it's yet another Lep movie, made for shits n' giggles for the video market with the production value of a well-used Lada.
First Lep took Vegas, then space and now the Hood. So what's new here? Crack-smoking, rapping, some vulgar gangsta talk (of course), more crack-smoking, more rapping, dopey effects where Lep shoots green lazer into someones eyes, gun fights and just overall incomprehensible buffoonery all across the board. Lep smokes so much crack to the point he wants a cross-dresser to give him a blowjob. Oof! Warwick Davis really needed the money this time, didn't he. And I almost forgot to mention the three-second cameo of none other than Coolio himself. And just to put the cherry on top, and let Lep embrace his inner gangsta, he finally grabs the mic and performs his own rap song, "Lep In The Hood, I'm so Bad I'm Good", which alone tells it all.
And last, but not least, here's the drinking game: take a shot for each time someone says "mothafuckah".


Director: Rob Spera
Writers: William Wells, Alan Reynolds, Rob Spera, Doug Hall, Jon Huffman
Country & year: USA, 2000
Actors: Warwick Davis, Ice-T, Anthony Montgomery, Rashaan Nall, Red Grant, Dan Martin, Lobo Sebastian, Ivory Ocean, Jack Ong, Barima McKnight, Bebe Drake, Donna M. Perkins
IMDb: www.imdb.com/title/tt0209095/

Related posts: Leprechaun (1993) | Leprechaun 2 (1994) | Leprechaun 3 (1995) | Leprechaun 4: In Space (1996) | Leprechaun returns (2018)