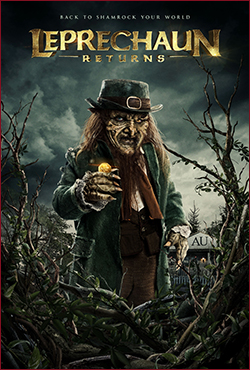 13 years has gone by since the the last Lep with Leprechaun Back 2 tha Hood, and a thing or two have obviously changed since then. Trimark was shut down in 2003, only three movies after Back 2 tha Hood, while Warvick Davis had moved over to Hogwarts with Harry Potter and recently shot the first season of the upcoming Willow series. And yeah, there's a film called Leprechaun: Origins from 2008, an amateurish nothingburger which has zero to do with the franchise in any shape or form. So we have to jump further in time to 2013 where Leprechaun finally returned, in a direct-sequel to the original, directed by Steven Kostanski.
The plot goes as follows: the teengirl Lila Jenkins is on her way to an old house in North Dakota, where she's going to spend the summer vacation with a group of college friends (body counts). As she gets a ride with Ozzie, the clumsy redneck from the first film, she tells him that her mom Tori (the protagonist from the first film) had died of cancer the same year. Rest in peace. After putting off Lila by the house, Ozzie suddenly gets some green liquid sprayed on him from the well which Lep fell into 25 years ago. The liquid somehow impregnates Ozzie, which leads to a gory rebirth where Lep punches and kicks his way out of Ozzie's stomach like a toddler with a tantrum. He then gives a quick return monologue just to ensure us that he, after being trapped in a well for 25 years, is still a witty goofball who hasn't forgot how to rhyme: "There once was a lad they thought DIED, his flesh had melted off his whole HIDE, but he escaped from the WELL, alive and quite SWELL. And now he'll be killing in stride!" And he's excited as a kid on Christmas morning to finally catch up with the killings.
The B-movie insanity that increased all up to eleven and blew out of all proportions in space, are toned-down and back to the roots with the farmland-setting, woods and overall back the 90s horror campyness. As the eight film in a horror franchise like this, it's pretty remarkable how more polished and, if not, more professional (for lack of better word) Lep Returns look. Director Steven Kostanski was also co-director on the modern cult-film The Void two years earlier, so there's clearly some talent behind the camera. There also seemed to finally be some competent special effects artists on set to give Lep some decent kill scenes, and there's no exaggeration in saying that this is the goriest film in the franchise. Lep eagerly uses some modern technology to slice someone's throat with drone blades, a whole body gets sliced in two, a fun little nod to Phantasm (I assume) with a mouth getting impaled by a sprinkler faucet. And there's a … pillow fight.
This being said and all the positives, the film itself is pretty mediocre with the same old cliché slasher characters which you couldn't give a toss about, and a standard mediocre slasher you'd forgotten about if it wasn't for the – drumroll – Leprechaun. As they got the same guy who played Ozzie in the first one to reprise his role, they for one last time, also tried to get Jennifer Aniston back. But nah. So, the only curiosity is on Lep, and why he looks more like as if Mortiis had a child. This time he is played by the relative unknown Linden Porco since Warwick Davis had his whatever reasons to pass. As low to non-existent expectations I had, he was quite a surprise and did a good job by mimicking the demeanor of Davis while investing some of his own personal flavor to it. And the most important of all, he seemed to have a fun time. So, my life wouldn't get absolutely ruined if he signs on any future Lep films.

Director: Steven Kostanski
Writer: Suzanne Keilly
Country & year: USA, 2018
Actors: Taylor Spreitler, Pepi Sonuga, Sai Bennett, Emily Reid, Ben McGregor, Oliver Llewellyn Jenkins, Mark Holton, Linden Porco, Heather McDonald, Pete Spiros, Leon Clingman
IMDb: www.imdb.com/title/tt8155182/

Related posts: Leprechaun (1993) | Leprechaun 2 (1994) | Leprechaun 3 (1995) | Leprechaun 4: In Space (1996) | Leprechaun in the Hood (2000)