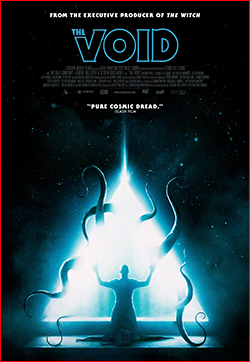 Here we have one of the more grimmer throwback horror-80s movies which seemed to be made by accident, or followed by a witness to an accident to be more correct. You see – other than producing their own low-budget horror films, the creative guys Jeremy Gillespie and Steven Kostanski from Astron-6 (Father's Day, Manborg, Psycho Goreman and more) have also worked on bigger Hollywood films such as It, and Scary Stories to Tell in The Dark with special effects and art designs. They also worked with one of the greatest; Guillermo del Toro and Jeremy Gillespie was working at Pinewood studios where del Toro was in pre-production of his magnum opus which never happened: At the Mountains of Madness. After the project crashed and burned due to the high budget costs and the fact that del Toro refused to add in a love story and a happy ending to the studio's demand, Gillespie and Kostanski got inspired to make their own low-budget spin on the story. And with their obsession for the 80s and the old school of filmmaking, it was natural to make it as a throwback.
It's around past midnight when the small town sheriff, Daniel Carter (Aaron Pole), picks up a wounded guy on a rural road and takes him to the local hospital. Here we also meet our small group of characters, among them a cute young pregnant woman who's about to give birth. And let's hope that nothing bad happens to her and the baby (ha-ha). To bring this John Doe to the hospital seemed to be a very bad idea as weird things started to happen, such as the lights flickering and the phone shutting down. From here, it gets messy pretty quickly around the hospital when one of the nurses gets shot by the sheriff after she stabs the eyes of one of the patients . The lights shut down and the hospital gets surrounded by a group of cloak/hazmat suit-wearing cultists who have no intention of letting anyone get out of the building. Some ancient supernatural forces have also seemed to awaken in the basement which transforms dead people into the most grotesque-looking mutants that has been put on film in modern time.
It's valid to mention that this is not an Astron-6 production which focuses more on humor, as this one has a far more serious tone. The Void is also crowdfunded on Indiegogo with a raise of only 82,510 dollars (!), which seems like a box of molded breadcrumbs for an ambitious Lovecraftian project like this. Having that said, the film looks pretty damn good with overall solid, creative filmmaking with a long string of clear inspirations from 70s and 80s classics. We have the siege element from John Carpenter's Assault on Precinct 13, the claustrophobic paranoia from The Thing, the morbid, grotesque madness from Stuart Gordon's From Beyond and the cryptic vibe and atmosphere from Lucio Fulci's The Beyond, to mention some – all blended into its own unique, beefy and tasteful love letter for us older gorehounds. A great soundtrack by Blitz//Berlin which also suits the grim retro style perfectly like a penis in vagina. Except for some very few visual effects, there is no CGI here, only the usage of gallons of fake blood and sticky, top-tier latex monsters that could be something straight from 1987.



Writers and directors: Jeremy Gillespie, Steven Kostanski
Country & year: Canada, 2016
Actors: Aaron Poole, Kenneth Welsh, Ellen Wong, Kathleen Munroe, Daniel Fathers, Mik Byskov, Art Hindle, Stephanie Belding, James Millington, Evan Stern, Grace Munro
IMDb: www.imdb.com/title/tt4255304/