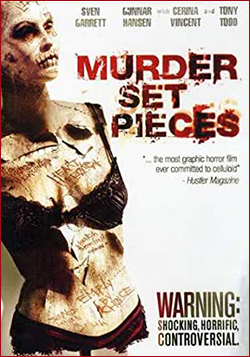 The film starts off with a quote from Jack the Ripper that says "The Jews are not the men to be blamed for nothing."  Then we see some silent and grainy black and white documentary footage of the September 11 attacks, as we hear a little girl's voice saying "Just you wait a little while, the nasty man in black will come. With his little chopper, he will chop you up!"
And after this quick, cryptic segment we see some images of some freshly dead young women, drenched in blood, in some kind of torture room, just to gives us a foretaste of what to expect during the next 90 minutes.
In Murder-Set-Pices we get the pleasure to meet The Photographer, played by the German actor Sven Garrett. He's a muscle-build pussymagnet, who during the daytime spends his time with his airhead of a girlfriend, and by night roams the streets of Las Vegas to photograph young naked models. And from what we saw in some glimpses of in the opening sequence, The Photographer is a cold-blooded, emotionless serial killer who, after having threesomes, rough sex orgies and anal-raping his models like a gorilla, ends the ritual by murdering them in some grisly fashion, and sometimes tortures them in his basement.
And if that's not enough to shock and disgust you, he also mutilates them and eats their flesh. And just to place the rotten cherry on top, he's also a neo-Nazi who listens to speeches of Hitler while he's pumping iron and thinking about his next victims. Doesn't sound quite family friendly, but even though 55 gallons of fake blood were used on a kill count of 30 victims, Murder-Set-Pieces is way too amateurish to do its purpose.
Gunnar "Leatherface" Hansen pops up in a quick cameo as a car mechanic so The Photographer can buy a gun. He then goes to a stripclub so we can enjoy some fresh nudity before it cuts right over to a rape scene. Then we see some flashbacks of The Photographer as a kid where he cuts off the dress of a barbie doll. Then it jumps to a scene where The Photographer is getting a blowjob in his car by using a severed head. Then we see Tony "Candyman" Todd in a cameo as a desk clerk in some adult book store, which escalates into a messy robbery scene, and it's the only scene here that's got some tension and entertainment value. But guess what happens next: more rape scenes, a pornographic photo session with two lesbians, a drawn-out torture porn scene that seems to last beyond the running time, before we the film completes The Unholy Trinity of Cameos by Edwin "The Hitchiker" Neil.
And as you've probably figured out by now, there's is none to zero plot to find here. The film is a mishmash of a bunch of random scenes that are stitched together with no relation to each other. There's no start, middle and end, no track of time, no progress, and the whole film feels more like a 90 minutes montage of deleted scenes from a film that never got finished.
The most noteworthy and head-scratching thing is that writer and director Nick Palumbo managed to raise 2 million dollars from investors, which at that time was the highest budget to an independent slasherfilm. Quite impressive, though, for a young underground filmmaker. But then the big question is: where did the budget go? There's zero style or any form of production value to see here, and The Human Centipede, which had a lower budget than this, looks like a David Fincher production in comparison.
Murder-Set-Pieces is also filled with controversies. Palumbo claims that this is the first film in the history that's been thrown out of three laboratories, producers were arrested, and cast and crew were arrested numerous times. Sounds like one of those disastrous film productions where a four hour long behind-the-scenes documentary would be far more interesting and entertaining than the movie itself. But if this sounds interesting enough, be sure to avoid the US release from Lions Gate where 20 minutes have been cut out, and instead look for the European director's cut version.



Writer and director: Nick Palumbo
Country & year: USA, 2004
Actors: Sven Garrett, Cerina Vincent, Tony Todd, Gunnar Hansen, Edwin Neal, Jade Risser, Valerie Baber, Destiny St. Claire, Maria Keough, Renee Baio, Lauren Palac, Andrea Mitchell, Jessie DeRoock
IMDb: www.imdb.com/title/tt0422779/