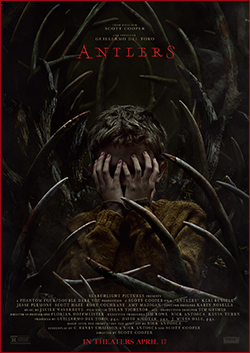 A middle school teacher, Julia, becomes interested in the life and well-being of one of her students. He is harboring a dark secret, one that will lead to terrifying encounters with a legendary ancestral creature.
Antlers is based on Nick Antosca's short story The Quiet Boy, a story that I truly enjoyed…not to mention that I also find myself intrigued by the mythology surrounding the Wendigo, which this story could be considered a modern take on. Anyway: needless to say, I got a little bit hyped up for this movie…and it was also delayed twice due to Covid-19 (originally it was supposed to be released in April 2020). So, after finally being able to see the movie on the big screen, did it live up to the hype? Well…so far, people's opinions of it are quite mixed, and I can see why.
First of all, there's been more than a few changes to the original story. Some of these changes were obviously made to flesh out the teacher character by adding a trauma of her own, with flashbacks and descriptions of how she and her brother grew up in a home of abuse. I guess this was made in order to clarify why she becomes so taken by Lucas, and how she wants to save him from growing up under similar circumstances. The depiction of just how damaged she is, by subtle hints such as her standing in the store looking at the liquor bottles and always forcing herself to not buy one, is a nice touch. Julia's childhood trauma is defined in a sufficient way without taking up too much of the story and screentime.
Now, since this movie is based on a short story it's kind of hard to write a review without making comparisons, but I'll try to keep away from any major spoilers when doing so. In the original story, it's not revealed until much later why Lucas is living under such conditions, and why he's doing the things he does. This gives everything a chance to build up with some mystery and suspense. In the movie, however, there's a very big change: in the very first moments of the movie, we meet Frank (Lucas's father) who is making meth inside a cave where he and his companion encounters the malevolent spirit, and thus Frank becomes affected. This also changes a major factor in the original story. This does (in my opinion) subtract a bit from the actual horror of the original story, where the movie plays more upon a monster coming to get you, rather than how poverty and desperation can make people bring out the monsters. Oh well…all that aside, the changes in plot doesn't outright destroy or damage the movie, it's just a bit different from the original story which, in my opinion, feels both darker and scarier.
As for the killing scenes and the horror of how Frank and Lucas's brother are transformed into hungry and malevolent beasts, there's nothing to complain about here. There are close-ups of heavily mutilated corpses and gruesomeness all around. Guillermo del Toro as producer for this movie comes as not much of a surprise, as dark fairytales with monsters is kinda his forté. And in the movie's final moments, when we get to see the wendigo monster in its fully glory, you can easily see his fingerprints all over the place. It's one of the movie's definite highlights.
If you have read the story (which I recommend, despite there being more than a few changes in the movie), you'll know that this is not a fast-paced horror story. Overall, I think that Antlers doesn't really match the darkness and horror of the original story, and there are a few instances where it moves along a little too slowly for its own good. However, it delivers grim and gruesome scenes, some very effective and gory ones too. Visually, it looks great, and the wendigo-monster is awesome. So while I prefer how the story unfolds in The Quiet Boy, I still enjoyed how Antlers turned out.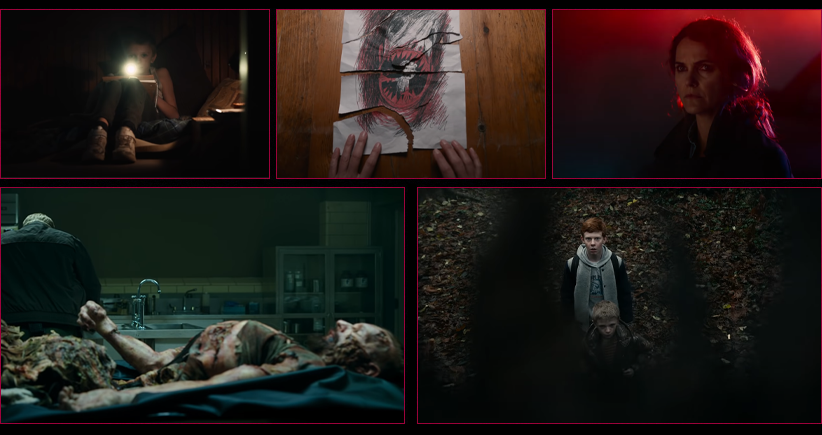 Director: Scott Cooper
Country & year: USA, 2021
Actors: Keri Russell, Jesse Plemons, Jeremy T. Thomas, Graham Greene, Scott Haze, Rory Cochrane, Amy Madigan, Sawyer Jones, Cody Davis, Lyla Marlow, Jesse Downs, Arlo Hajdu, Dorian Kingi, Ken Kramer
IMDb: www.imdb.com/title/tt7740510/