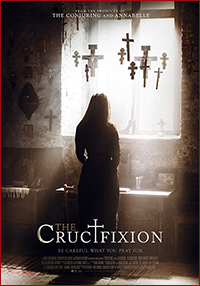 Nicole is a young journalist eager to find out the truth in the case of an exorcism gone wrong in Romania, where a nun died and the priest and nuns involved were convicted for murder. She travels all the way over to Romania in order to dig deeper into the story, and after meeting with Father Anton and visiting the monastery where the exorcism took place, strange things start happening. As she finds out more and more about the nun that died, it becomes obvious to Nicole that something paranormal really did happen to that girl…and that it may even start happening to herself now.
The story in this movie is inspired by true events: the "Tanacu Exorcism" where an allegedly mentally ill nun, Maricica Irina Cornici, was killed during an exorcism in Romania in 2005. This was a case that was widely publicized in Romanian media, and after the priest and nuns were sentenced to jail, many of Tanacu's residents still believed that Cornici had actually been possessed by a demon (including Cornici's brother). Later, it was revealed that she had died of an overdose of adrenaline given to her in the ambulance.
Chad Hayes and Carey W. Hayes are the writers (known for being the writers of Conjuring 1 and 2), while the director is Xavier Gens, known for "Frontier(s)". In other words, some very familiar names in the world of horror movies. While Xavier's "Frontier(s)" is a violent and gory movie, "The Crucifixion" has none of this, and is a movie playing far more on the psychological level and giving it a drama/mystery tone.
Since this movie was filmed in Bucharest (Romania), there are many moments of beautiful and atmospheric scenery to behold, which is actually one of the film's major advantages. It is unfortunate that it never manages to build more scares, and plays out more like a mystery thriller/drama, where the mystery takes a lot more place than the horror. With that being said, there is a certain amount of suspense (much helped by the Romanian scenery and buildings), and if you like a horror movie that plays out more like a crime/mystery/drama, then this might be right up your alley.

Director: Xavier Gens
Country & year: UK | Romania | USA, 2017
Actors: Sophie Cookson, Corneliu Ulici, Ada Lupu, Brittany Ashworth, Catalin Babliuc, Matthew Zajac, Iván González, Ozana Oancea, Javier Botet, Jeff Rawle, Florian Voicu
IMDb: www.imdb.com/title/tt4181782/