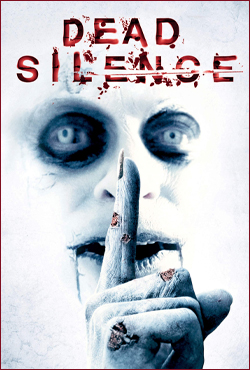 Jamie and Lisa are a married couple that one day receive a gift from an anonymous person: a box that includes a ventriloquist doll that is called Billy. When Jamie is out getting some take-away food, his pregnant wife is attacked by an entity that not only causes her to have a miscarriage, but literally rips her tongue out as well. Jamie is immediately suspected for having something to do with his wife's gruesome murder, but he is soon released from custody due to lack of evidence. When he comes home, he inspects the mysterious gift and sees a message about some called "Mary Shaw": a ventriloquist that lived in Raven's Fair, Jamie's hometown. He decides to visit the old town where he grew up, which is now looking dilapidated and forlorn. He visits his estranged wheelchair-bound father, who has now remarried to a much younger woman. When trying to find out more about Mary Shaw, the doll Billy, and the secrets of Raven's Fair, Jamie ends up realizing that there are times when it's best to keep your lips tightly sealed…
Before James Wan got renowned in the world of horror due to the Insidious and Conjuring franchise, he had previously made another (completely different) type of horror movie: "Saw". Saw is of course a completely different beast, where that franchise pretty much turned into what could probably be considered (soft) torture porn. However: what few people seem to be aware of, is that Insidious (2010) and Conjuring (2013) were not Wan's first entries into the supernatural horror genre. Predating them both, Dead Silence was released in 2007. Unfortunately it was a box office failure upon release (some believing it was ahead of its time, as creepy atmospheric ghost horror movies had a higher popularity some years later) but it has later been somewhat re-discovered. While not on par with some of James Wan's later achievements, it is now considered a solid entry into the supernatural/ghost horror genre.
In the film, you can easily spot James Wan's distinctiveness all over the place, where you can see the early hints of what to come as he's now exploring the realm of spirits and creepy, atmospheric settings, while also having a little bit of the Saw-grittyness in it which includes some fairly nasty death scenes. Nothing over-the-top, but enough to blend in with the the rest. There's a lot to appreciate when it comes to eerie scenery, there's even an old theatre partly submerged by water from the nearby lake. It's spooky and gothic, maybe a little cheesy here and there but with enough creepy atmosphere to keep the chills coming.
And, let's not forget the villain of the movie, the undead ventriloquist Mary Shaw, played by Judith Roberts. As the nursery rhyme from the movie goes: Beware the stare of Mary Shaw. She had no children, only dolls. If you see her in your dreams, be sure you never, ever scream or she'll rip your tongue out at the seam (and let's be honest: if you saw someone like her, it would probably be hard not to scream…). She is somewhat reminiscent of "The Bride In Black" from the Insidious franchise, so you could say that Mary Shaw was a prototype of other ghostly villains to come.
Overall, Dead Silence is a horror movie that still holds up well after 15 years, and can easily be seen as a nice prelude to Jame's Wan's later films into the supernatural horror genre.
Fun fact: there is actually a little easter-egg during the climax of the movie: among Mary Shaw's collection of dolls, you can see Jigsaw's doll (from the "Saw" movies) among them.
Director: James Wan
Writers: Leigh Whannell, James Wan
Country & year: USA, 2007
Actors: Ryan Kwanten, Amber Valletta, Donnie Wahlberg, Michael Fairman, Joan Heney, Bob Gunton, Laura Regan, Dmitry Chepovetsky, Judith Roberts, Keir Gilchrist, Steven Taylor, Steve Adams
IMDb: www.imdb.com/title/tt0455760/