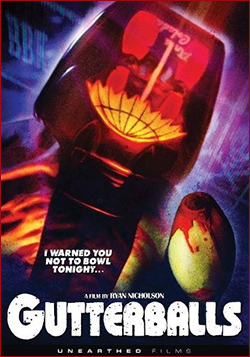 In this little 80's throwback slasher and rape/revenge-flick Gutterballs, we spend time in a bowling hall with two groups, getting ready for a bowling contest. But the plan for that night goes down the toilet when a fight escalates. The individual that stands out is the unhinged Steve, a sadistic bully with some serious anger issues. He screams desperately for attention in every scene, spews out a world record list of obscenities, one of them being over 600 fuck-bombs (yes, someone actually tried to count them). I wouldn't recommend the drinking game for obvious reasons, but at least we have some other use of colorful words to play with such as cunt, bitch, motherfucker, whore, pussy, etc…
The plot and the boners thickens when Steve and his group of friends gang rapes Lisa, the girl whom left Steve for some other guy in the other group. The next night the two groups hook up again in the bowling hall to start over. Lisa is still there, that poor girl, but reserved behind some, big dark sunglasses. And when the bowling-match is about to settle, a mysterious, unseen player by the name BBK is shown on the score monitors. They soon learn that they're being terrorized by a killer wearing a bowling bag over its head and using sharp bowling pins to penetrate the victim's private parts.
THE MOST OFFENSIVE FILM EVER, many calls it. Well, at least it's far from being boring. But yeah, it's hard to not agree that the characters are a bunch of insufferable fucks performed by the bottom of the barrel actors from Troma, and you can't wait to see them get brutally killed. And let me tell you, Gutterballs doesn't disappoint in that aspect. Some dude gets his head crushed by two bowling balls, another's head gets blown to smithereens by a shotgun, we get a nasty close-up castration, sodomizing, face melting and even more. The most memorable scene is the couple getting killed while having a steaming 69 in the bathroom. Sadistic and perverted fun for the whole family.
Writer and director Ryan Nicholson has since the mid 90s primarily worked as SFX artist on titles such as Ghost Rider, Stargate, Transformers, X-Files and the list goes on. Special effects is clearly his main focus, but despite the film's limited budget, he also manages to lit up the bowling hall with the use of neon light to enhance some of the 80s atmosphere. He followed up with the sequel Gutterballs 2 for his cult-followers in the underground horror movie community, and also made films such as Dead Nude Girls. Sounds fun. Gutterballs seems to be his most approachable film for the masses, and if you like raw, trashy and silly 80s slashers like Intruder, Chopping Mall, Savage Streets and Troma in general, this one will surely please you.



Writer and director: Ryan Nicholson
Country & year: Canada, 2008
Actors: Alastair Gamble, Mihola Terzic, Nathan Witte, Wade Gibb, Candice Lewald, Jeremy Beland, Trevor Gemma, Nathan Dashwood, Scott Alonzo, Jimmy Blais, Danielle Munro, Stephanie Schacter, Saraphina Bardeaux, Dan Ellis, Brandon Dix, Ryan Nicholson
IMDb: www.imdb.com/title/tt1087853/