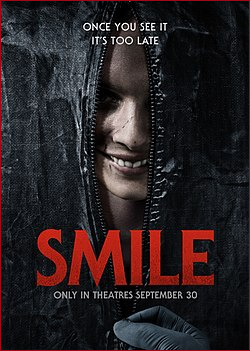 One day at work, the psychiatrist Dr. Rose Cotter meets with a recently admitted patient called Laura Weaver. Laura is a PhD student, who appears to be having some kind of mental breakdown, caused by witnessing her professor committing suicide some days earlier. She claims that some kind of entity is trying to kill her, and it pretends to be other people smiling at her. As Rose tries to calm her down, Laura suddenly screams in panic and falls to the floor, convulsing. Rose calls for help, but after making the call she turns to see that Laura is standing on the floor, smiling widely at her. And then she cuts her own throat with the shard from a broken vase.
After this, Rose is understandably upset. And she starts seeing and experiencing things she can't quite explain. At first, both she and everyone around her believes that it's the stress and trauma of witnessing a patient committing suicide right in front of her, but as the supernatural occurrences continue she starts noticing the smiling entity Laura mentioned in their brief session. Things escalate quickly, causing misery to both her and everyone around her, including her sister Holly whom she's already got a strained relationship with ever since the death of their abusive mother, who overdosed when Rose was a child. So, when Rose tries to explain what is happening to her, no one believes her and thinks it's either the trauma from her childhood flaring up, or even that she's starting to show traits of her own mother's mental illness. Desperate for answers, she embarks on a stressful and frightening journey in the hopes of breaking the curse.
Smile is a horror film directed by Parker Finn, which is his directional debut. It is based on his 2020 short Laura Hasn't Slept. At first, Paramount originally planned for this $17 million dollar budget movie to head straight for a streaming-only release on Paramount+. Thankfully they changed their mind! During the test screening the audience feedback scored much higher than they expected, which prompted them to give the movie a theatrical release. And the budget was already earned back during the opening weekend, where it grossed $22 million, to where Paramount's distribution chief Chris Aronson said it exceeded their wildest expectations.
So, Smile has already made a place for itself in the horror genre, proving that using some well-known horror tropes and familiar ideas can still give us an effective experience and make for a good movie. In some ways it highly resembles It Follows (another horror movie that was highly effective and scared the bejeezus out of some people) as well as a little bit of ideas from other movies like for example The Ring. There were even some parts later in the movie which had a little bit of Resident Evil vibes. But most importantly, it also has a flair of its own stuff.
Smile is a horror movie that centers around trauma and its impact on not only the people who experience it, but how those who suffer from trauma may also affect their surroundings. The entity in Smile isn't just something that wants to scare you and simply kill you, it feasts on emotional pain, which means it must make you suffer. While both the title and the entity displays a surface-level metaphor (how people suffering from trauma and depression are often forced to just "smile" and put on a mask in order to pretend to their surroundings that everything is okay), there are also a few other subjects which is delved a little into, like for example the lackluster healthcare services which often doesn't give people with mental illnesses the treatment and care they need, how mental illness is something that is highly stigmatized, how people close to those with mental illness may be affected by it, and how those who suffer may get turned away with a "I can't deal with this right now", often leaving the sufferer alone and feeling helpless. Smile is a dark and grim horror movie, executed with an obvious understanding of tension building and how to make the jump-scares effective as a whole and with the full context. It's a curse-themed horror movie that's got teeth, and it bares them with a smile.


Writer and director: Parker Finn
Country & year: USA, 2022
Actors: Sosie Bacon, Kyle Gallner, Jessie T. Usher, Robin Weigert, Caitlin Stasey, Kal Penn, Rob Morgan, Gillian Zinser, Judy Reyes, Jack Sochet, Nick Arapoglou, Perry Strong, Matthew Lamb, Dora Kiss
IMDb: www.imdb.com/title/tt15474916/