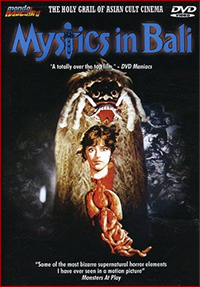 The author Kathy Keen is on a trip in Bali, Indonesia, to do some research on an ancient black magic called Leák. She has already been to Africa where she learned about Voodoo, but she needs more material to fill her book on the subject of black magic. She gets help from a guy called Hendra, who's got some knowledge of the local folklore, and he also soon becomes her love interest. He takes her to the obscure corners of the jungle where they meet The Queen of Leák, a crazy old witch with a cackling, screaming and over-the-top animated laugh. And it is obvious that the person who dubbed her voice had a really fun time in the recording studio. Anyway, it's already hard to describe what's going on here, but it's something like this: the witch orders Catherine to take off her skirt so that the witch can tattoo something on her leg, using what looks like a long lizard tongue. If this sounds bizarre, you haven't seen nothing yet. The tattoo is supposed to be a sign that Kathy is now an official student of Leák, and must come to her every night to learn more about this mysterious magic. And it's straight down the rabbit-hole from here on, where Kathy and the witch dances like drunk hippies, transform themselves into pythons, flying screaming fireballs, and … pigs. You just saw that coming, right? And we get other things that include a flying head which you just have to see for yourself to believe.
The witch uses the body of Kathy to posses her, and wrecks havoc on the locals. This becomes too much for her love interest, who asks his shaman uncle how they can stop Leák and her black magic, so he can get his beloved Kathy back before it's too late. And after this I can easily understand why Bali is one of the most risky places to visit. Just kidding.
Trying to explain this film to someone on a tired Monday, is almost impossible. And I find it a little funny that this is the first true Indonesian horror film aimed at a western audience. So, if this should be an easy thing to digest for us simple-people in the west without raising any eyebrows, I can't even imagine in my wildest  dreams what the regular horror movies from that country looks like. And I'm not at all familiar with Indonesian horror films, or Indonesian films at all for that matter, so I'm really eager to take a further look behind that curtain, if I'm even allowed to.
After doing some research one can learn that the film mixes several obscure myths and folklore from Indonesia and Bali, such as the flying head with its organs attached, which is called a Penanggalan. It's their own version of the vampire myth, basically. The sight of the head floating around with strings, with its primitive effects from the stone age, is just pure cheesy gold. And it's not easy to tell when the film is trying to be serious or intentionally funny when the completely absurd tone is all over the place. A truly unique oddball of a film, with a lot of bizarre, unpredictable crazy scenes one after another, and highly entertaining, that's all I really can say.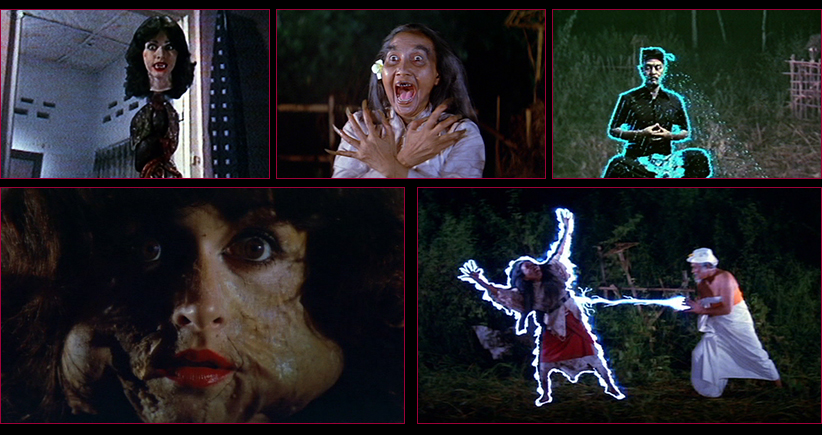 Director: H. Tjut Djalil
Original title: Leák
Country & year: Indonesia, 1981
Actors: Ilona Agathe Bastian, Yos Santo, Sofia W.D., W.D. Mochtar, Debbie Cinthya Dewi, Itje Trisnawati, Ketut Suwita,
IMDb: www.imdb.com/title/tt0097942/