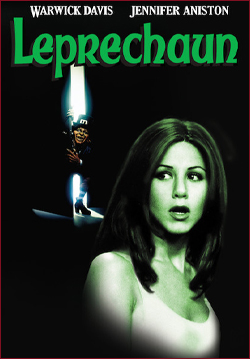 Screenwriter Mark Jones had already worked in the TV industry since the 70s, and wrote for Saturday-morning cartoons like Scooby-Doo, Yogi, Dinky Dog, Mr. Magoo, Heathcliff, James Bond Jr, ALF and the list goes on. At the age of forty he decided to take his career to the next level by writing and directing his first little, low-budget horror film. And one night he sat in a bar and saw the Lucky Charms commercials on TV,  the brilliant idea for a horror spin to the Irish mythical folklore creature, Leprechaun, popped up in his head. And since Halloween and Friday the 13th was already taken, a horror film about an evil Leprechaun would be perfect to air on TV every St. Patrick's Day and give him an annual paycheck. He pitched a script to Trimark Pictures and got the green light (pun intended) after being rejected twice. On board he had the British actor Warwick Davis in the title role, who was then only known for his role in Willow, and was pretty excited to play an antagonist.  An young and unknown Jennifer Aniston plays the main protagonist in her first movie role.
Leprechaun starts off in 1983 where Dan returns to his farmhouse in North Dakota from a trip to Ireland. He arrives in a black limousine, drunk on Jameson Whisky, and shows his wife a pot of gold that he'd stolen from a Leprechaun. But little did he know that the Leppy has followed him, and kills his wife by pushing her down the basement stairs as he screams his trademark line "I want me gold NOW!". Dan suppresses his powers with a four-leaf-clover, which is like cryptonite  for Leprechauns, before he traps him in a crate. After sealing it he puts the clover on the crate to hold him trapped forever. He then gets a stroke.
Ten years later, the young lady Tori (Jennifer Aniston) and her dad is moving into the farmhouse we saw earlier. Tori is not impressed and wants to go back to Beverly Hills. After freaking out by some cobwebs and the sight of a spider in the basement, she runs out and bumps into Mr. Prince Charming (a love-relationship that never got developed in the script, I guess). But it gave her enough reason to stay so we can see her with a shotgun at the end. But where's the man of the party, Leppy himself? He's still in the basement, trapped in the crate, waiting for someone to finally remove the four-leaf-clover so he can finally pop out, look for his gold, and give us some entertainment. Of course, it had to be some fat, clumsy redneck to remove the clover by an accident. He's supposed to be the comic relief, but no one had any idea how Warwick Davis would completely outshine the whole cast.

If Beetlejuice and The Joker had a baby, it would be something like Leppy, and the one and only reason to watch the film is because of Warwick Davis. Without him and his witty and unique, cartoonish, wild persona and line-deliveries, this film would be unwatchable and forgotten, and we wouldn't have the awesome sequels. He's  dedicated to the fullest, clearly having a blast, and the imaginative prosthetic make-up by FX artist Gabe Bastalos matches his personality perfectly. The rest of the characters have nothing much to offer and are as bland as bed sheets, and the film's main problem is that it doesn't know what it wants to be. In some scenes it looks like a cheap kids movie made for TV, and the next we have some dark moments where Leppy bounces some dude to death with a pogo stick. He breaks some police officer's neck and rips someone's eye out. Too childish for the older viewer, yet too brutal for the minors. So … I don't know.
The highlight is where Leppy chases Jennifer Aniston with a wheelchair, a scene where she actually had to run in slow-motion so that Davis could keep up with her, as he had trouble steering the wheels. I would love to see a raw footage of that, haha.
The film is most known for Jennifer Aniston's first film role, and this is probably her best performance as far as I know. She runs, screams, and when she's not looking confused and asks herself what the hell she's signed on to, she tries her hardest to look scared when confronted with Leppy. At some point she looks completely dead inside where she might be realizing that this actually was a feature film and not a deliberate prank. Luckily for her she found success in the sitcom Friends shortly after, and did what she could to pretend that this film never happened. Even though the film was a perfect target to get panned and mocked by critics, it struck gold at the box office, gained a cult-following and the executives at Trimark now saw the opportunity for more gold with a franchise with Warwick Davis who reprised his role in five sequels. And what a bizarre franchise we got. Dear Lord …



Writer and director: Mark Jones
Country & year: USA, 1993
Actors: Warwick Davis, Jennifer Aniston, Ken Olandt, Mark Holton, Robert Hy Gorman, Shay Duffin, John Sanderford, John Voldstad, Pamela Mant, William Newman, David Permenter, Raymond C. Turner
IMDb: www.imdb.com/title/tt0107387/

Related posts: Leprechaun 2 (1994) | Leprechaun 3 (1995) | Leprechaun 4: In Space (1996) | Leprechaun in the Hood (2000) | Leprechaun returns (2018)