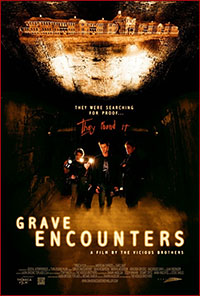 Grave Encounters is a "found footage" horror movie about a reality TV series where three paranormal investigators visists historic haunted landmarks in the United States, like we've seen in "Ghost Hunters", "Ghost Adventures" and numerous more of these shows that's exploded in the recent ten years. But "Grave Encounters" was ahead of its time, according to what a producer tells us in the introduction before the movie starts. The film revolves around the sixth episode of "Grave Encounters" where the entire crew were to inspect an abondened haunted asylum where they disappeared and were never seen again. The only thing that was found was the 70-hour raw footage trimmed down to the last episode. And the producer that introduces us to the episode also tells us that what we're about to watch is real, has not been tampered with, and just been edited strictly to cut down the time.
The movie also does not hesitate for a second to throw in some obvious satire on "Ghost Adventures", which has become one of the most famous series in the genre. Grave Encounter's host and producer Lance Preston (Sean Rogerson) can easily be seen as a parody of Zak Bagans with the same style of clothing, hairstyle and manic behavior. The crew also brings along a psychic, a dude that looks like a mix of Mick Jagger and Iggy Pop who must turn on his acting skills between the takes. The series has so far been a pure hoax with its five episodes, but after they get locked inside the mental hospital while camera gets rolling and shit starts to happen for real, they show their true colors and aren't as tough as they seemed to be. Well, exept the host, Lance, who pushes the crew to keep the show going.
What makes Grave Encounters one of the much better found footage films is the realism, great acting, and steady narrative. They go from being characters in a fake series where everything is scripted, to obviously distressed and scared people when things begin to actually happen. It's that "what-if" scenario that makes Grave Encounters stand out from the found footage-jungle out there. What if all of those paranormal investigators actually got a real up-close encounter with a ghost? Would they run away, or would they actually stay and get more out of it? Well, in this case we know the answer, but it's a funny thing to think of when you see one of these shows in disbelief. Also filmed in a hospital where the narrow, dark corridors give a cool, isolating atmosphere, and overall a great tension that builds as a locomotive till the end.

Director: The Vicious Brothers
Country & year: Canada, 2011
Actors: Sean Rogerson, Ashleigh Gryzko, Merwin Mondesir, Juan Riedinger, Shawn Macdonald, Mackenzie Gray
IMDb: www.imdb.com/title/tt1703199/