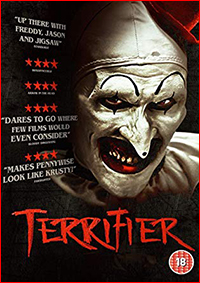 The two girlfriends Tara and Dawn are leaving a Halloween party late at night, and stops by a pizza restaurant. After Dawn has taken her "longest piss ever", a tall and skinny person dressed as a clown-like weirdo comes in with a trash-bag over his shoulders. He sits down by the table across them and gives them an intimidating stare, not uttering a single word. He starts to make faces and evil grins, which is creeping out Tara since she's the one he's showing most of his attention to. Dawn, who is slightly drunk and in a funny-mood, tries to laugh it off and plays along by taking a selfie with him. After all, it's Halloween, so he must be a harmless weirdo who's just trolling them (or in this case clowning them), right? Oh, well…
After Tara and Dawn have left, Art the Clown (which is the creepy clown's name) returns to the restaurant to do some unfinished business in a pretty graphic killing scene, which gives us a foretaste of what to come. He chops a guy's head off to make a Jack-O-Lantern of it, and another guy gets his fingers chopped off before he stabs both of his eyes out. Then Art is going after the two girls to get his brunette (Tara). And anyone that gets in his way gets killed, or executed, to put it more correctly.
"Terrifier" is written and directed by Damien Leone, and based on his short film with the same title from 2011. It is also a spinoff of his previous film "All Hallows Eve" (which I've not seen yet). His CV is mainly listing him as a special effects and make up artist, and "Terrifier" shows that he has a good eye and steady hand as a director as well. The film is a love-letter to the 80's slasher films, with only practical and old school effects. And they are awesome. The death scenes are creative, juicy and gruesome, and even though there's not much characters here, the actors are doing a good job. "Terrifier" is more a cat-and-mouse game filled with tension from start to finish.
But the man of the hour here is undoubtedly Art the Killer Clown.
In Ed Gein-style we get a scene where Art mutilates a girl while she's hanging upside-down by her legs, and uses her upper torso as an outfit while he dances around like a drunk schizophrenic lunatic. David Howard Thornton is the actor behind Art the Clown, and he's clearly having the time of his life playing this character with a high level of energy and enthusiasm. Art is also mute and plays only on facial expressions and body language, and David makes the character creepy and believable, and just a joy to watch. And in this never ending era of remakes and reboots it is a breath of fresh air to see a new slasher villain.
And some great news that broke recently: Terrifier 2, which will also be directed by Damien Leone and starring David as Art The Clown once more, is in pre-production and set to be released in 2020.

Director: Damien Leone
Country & year: USA, 2016
Actors: Jenna Kanell, Samantha Scaffidi, David Howard Thornton, Catherine Corcoran, Pooya Mohseni, Matt McAllister
IMDb: www.imdb.com/title/tt4281724/

Related posts: Terrifier 2 (2022)